Services Offered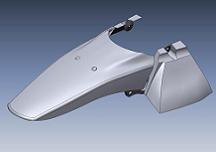 Our Engineers are experts at using non-contact laser scanning technology to produce 3 dimensional digital models. We are committed to providing high quality 3D scanning and reverse engineering services at an affordable price. We promise 100% satisfaction guaranteed, or you don't pay a dime! There is absolutely no risk to you. We can do this because the leading-edge technology used by our engineers allows us to produce a high quality scan at a much lower price than our competitors. We aren't burdened by a costly investment in legacy, outdated scanning technology. Send us a photo of your object via email and we'll give you a quote.

We can scan your object with our state of the art, non-contact scanning technology and create a 3 dimensional model in many formats, including: STL, U3D, PLY, XYZ, VRML and U3D. We can also generate NURBS surfaces or splines from your object and export IGES/STEP files.

In addition, we can produce fully parametric 3D models, including SLDPRT files, through the process of Reverse Engineering. These models can be opened in Solidworks with the full feature tree or various other CAD programs.